[embedyt]http://www.youtube.com/watch?v=m6gXm9dxa6Q[/embedyt]
Between 26-27th of October there was 100% workshop formula conference
Warsjawa
. TouK was the sponsor of
Venkat Subramaniam
visit. Venkat wrote books such as: 'Functional Programming in Java: Harnessing the Power of Java 8 Lambda Expressions', 'Programming Groovy: Dynamic Productivity for the Java Developer', 'Programming Scala: Tackle Multi-Core Complexity on the Java Virtual Machine' and he is trainer and appreciated speaker.
TouK on Warsjawa: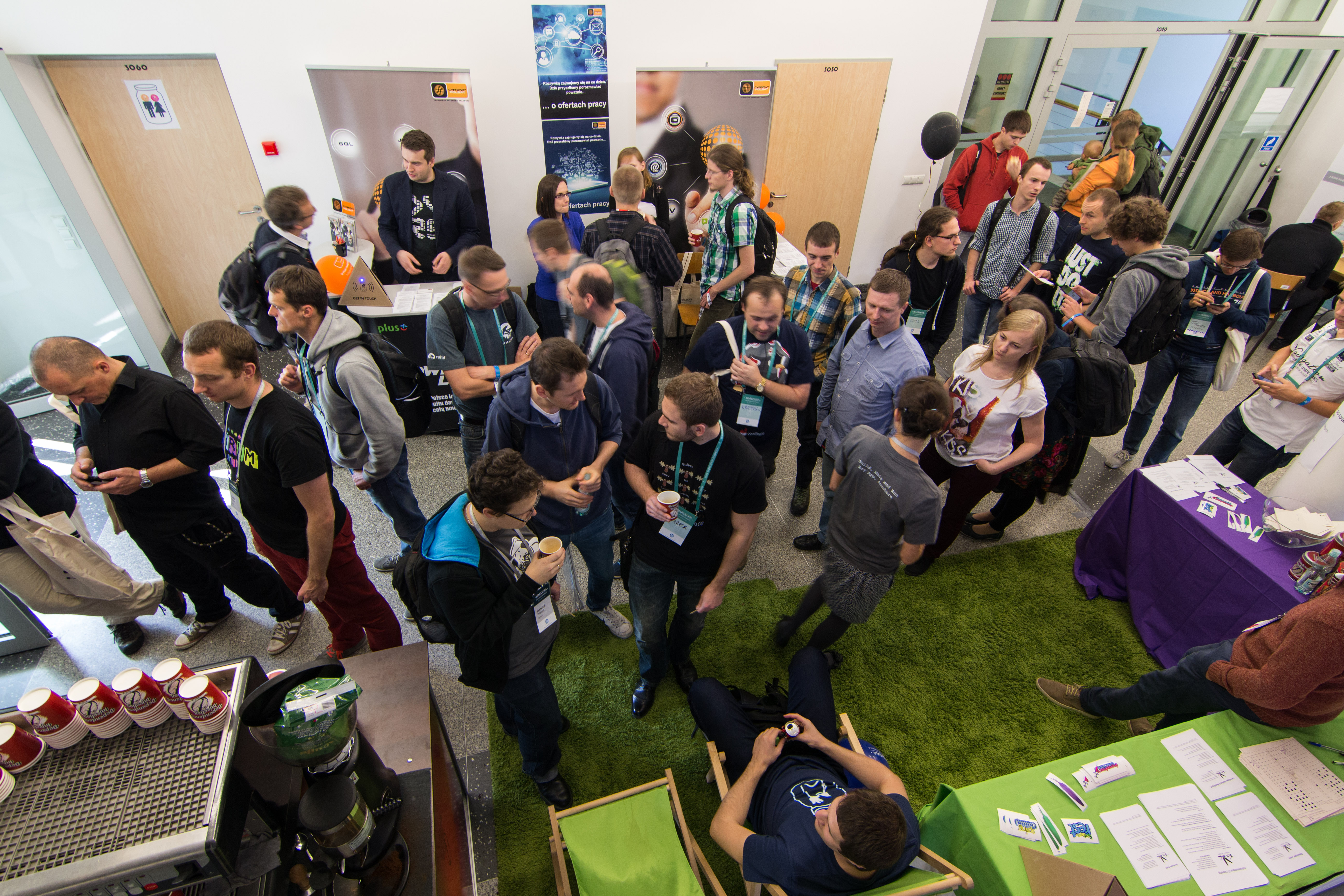 24/500 of all attendees
1/21 volunteers
4/10 organizers
9/90 workshop facilitators
Workshops were facilitated by:

Paweł Byszewski: First step of Android's cracker
'Mobile apps make developers think about safety in old fashion way, when unauthorized access or data leak were main problems. In mobile world each user has full access to complete instance of application. Thus reverse engineering is again popular and important. Each Android's developer should know at least basic of Android reverse engineering. First of all you would be able to verify and improve app safety because you will know your opponent and his tools.
It will be basic course of Android app decompilation, receompilation etc.'
Tomasz Fijałkowski: Java 8 w codziennym życiu repo on github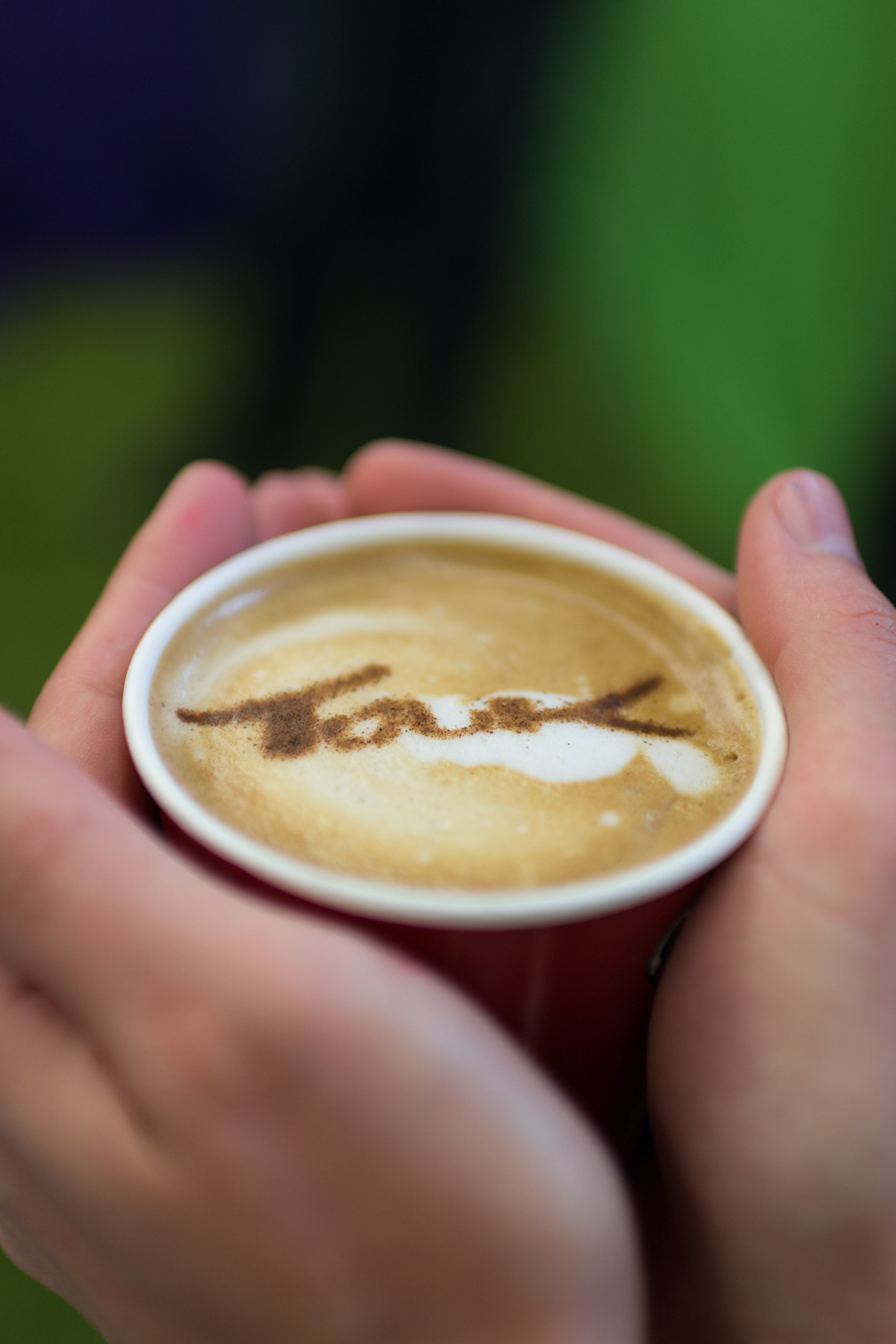 'Celem warsztatu jest przybliżenie uczestnikom możliwości Javy 8. W trakcie zajęć omówiony zostanie paradygmat programowania funkcyjnego oraz zostanie zaprezentowane jak wyrażenia lambda mogą poprawić jakość kodu i zastąpić klasyczne wzorce projektowe. Czyli jak radzić sobie z tym wszystkim, z czym mamy do czynienia na co dzień. Zajęcia praktyczne poprzedzi krótka prezentacja, po której przystąpimy do rozwiązywania w parach przykładowych ćwiczeń. Każde zadanie zostanie przedyskutowane pod kątem możliwości Javy 8 oraz jej potencjalnych braków.'
Piotr Jagielski, Marcin Cylke: Clojure for the brave repo on github
'First we would like to do a brief Clojure introduction than encourage people to solve some puzzles in Clojure. Solving in groups or individually. There would be simple ones – like testing, basic operations and structures, and more advanced – involving external services, distributed computations.'
Michał Trzaskowski: Squeeze more from webapp- when simple CSS can replace complex Javascript. examples and materials
'The IE6 'blocking' era is long over. Nowadays browsers support many features and standards that speeds up development and offer very rewarding designing effects. Even the simplest CSS standard is getting much attention although it's true capabilities are still a mystery to many web developers. Today CSS provides many design flavours that was only available through use of complex JavaScript or third party plug-ins / libraries. Animations, transition effects or graphic transformations can be used with simple and declarative syntax of good old web standard. On my workshop I will try to present and work through a few pretty nice CSS solutions. Adaptive gradients, shadows and transparency, transitions and animations, 2d and 3d transformations, media queries. Some of them can reduce complexity of used JavaScript, some of them may even replace whole JavaScript libs at all.'
Dominik Przybysz: Activiti in practice repo on github
'Podczas warsztatu przyjrzymy się możliwością silnika Activiti. Przejrzymy elementu dostępne przy tworzeniu procesów oraz zobaczymy jak je połączyć w procesy biznesowe, które będą w pełni automatyczne, komunikujące się z człowiekiem oraz innymi systemami.'
Mateusz Kaczmarek: How to become SPOCK at TDD 'Warsztat wprowadzający do Groovy'ego, Spock-a oraz efektywnego TDD, czyli jak testować, żeby nie zabetonować sobie kodu testami. Najwięcej na warsztatach skorzystają średnio zaawansowani programiści Java, którzy już trochę testów (unitowych, integracyjnych) w swojej karierze napisali. Będę prezentował doświadczenia ponadrocznego wykorzystania produkcyjnego Groovy'ego i Spock-a więc będzie sporo anegdotek i śmiesznego kodu :) Z tego też powodu osoby, które już trochę groovy-ego/spock-a znają również nie powinny się nudzić. Czy będzie więcej podstaw, czy też zaawansowanych tematów zależy tak na prawdę od poziomu wtajemniczenia uczestników.'
Przemek Hejman, Marcin Brański: Czas Dockera- Od zera do kontenera! repo on github
'Workshop o Dockerze czyli nowoczesnych kontenerach LXC. Powiemy o tym, co jest pod maską, jak to działa, dlaczego to działa i w czym nam może pomóc. Odpalimy razem dockera (także na OSX!). Krok po kroku przejdziemy od prostego odpalenia kontenera, przez Dockerfile, zlinkowane kontenery po zaawansowane rozwiązania. Pokażemy kilka praktycznych przykładów w akcji, kilka haków z których korzystamy na codzień oraz zahaczymy o narzędzia pochodne, którymi będziemy tworzyć dynamiczne środowiska oparte na Dockerze.'
Tomek Netczuk, thanks for great photos!